Mom's Going to Madagascar
Eeeeeeeeeeeeeeeeeeeee!!! That's a baby in there! A BABY! That little bubble there, that's a baby, ya'll! Baby! Ahhh!

Okay, enough squealing. I'll pause my extreme excitement long enough to get some thoughts written out to you.
Pregnancy is fun, ya'll. It's hard and exhausting and a little bit gross sometimes–whoever named is morning sickness probably didn't understand the definition of the word "morning"–but oh so much fun. I'm having a blast thinking about names and planning room themes. A thousand questions are running through my mind every time I pause to think about it all! So much to think about and decide!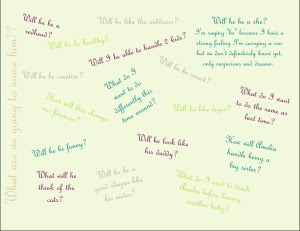 Psalm 127
1 Unless the Lord builds the house,
the builders labor in vain.
Unless the Lord watches over the city,
the guards stand watch in vain.
2 In vain you rise early and stay up late,
toiling for food to eat—
for he grants sleep to those he loves.
3 Children are a heritage from the Lord,
offspring a reward from him.
View original post 326 more words